The Kandariya Mahadeva Temple – "the Great God of the Cave", is the largest temple in the medieval period.
Kandariya Mahadeva Temple considered one of the best examples of temples preserved from the medieval period in India.
Kandariya Mahadeva Temple is located in the Chhatarpur district of Madhya Pradesh in Central India. It is in the Khajuraho village, and the temple complex is spread over an area of 6 square kilometres (2.3 sq mi). It is in the western part of the village to the west of the Vishnu temple.
Location:
The Khajuraho village at an elevation of 282 m , is well connected by road, rail and also air services.
Khajuraho is 55 kilometres to the south of Mahoba, 47 kilometres away from the Chhatarpur city to its east,
43 kilometres away from Panna, 175 kilometres away from Jhansi on the north while 600 kilometres to the Delhi.
It is 9 kilometres from the railway station. Khajuraho is served by Khajuraho Airport, with services to Delhi, Agra and Mumbai.
It is 6 kilometres away from the temple.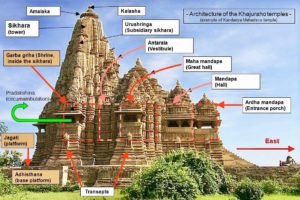 History:
Khajuraho was once the capital of the Chandela dynasty.
The Kandariya Mahadeva Temple, one of the best temples preserved from the medieval period in India,
is the largest of the western group of temples in the Khajuraho complex  built by the Chandela rulers.
Shiva is the chief deity in the temple deified in the sanctum sanctorum.
The Kandariya Mahadeva temple was built during the reign of Vidyadhara.
At various periods of the reign of this dynasty many famous temples dedicated to Vishnu, Shiva, Surya, Shakti of the Hindu religion and also for the Thirthankaras of Jain religion were built.
Vidhyadhara, also known as Bida in the recordings of the Muslim historian Ibn-al-Athir was a powerful ruler who fought Mahmud of Ghazni in the first offensive launched by the latter in 1019.
This battle was not conclusive and Mahmud had to return to Ghazni.
Mahmud again waged war against Vidhyadhara in 1022. He attacked the fort of Kalinjar. The siege of the fort was unsuccessful.
It was lifted and Mahmud and Vidhyadhara called a truce and parted by exchanging gifts. Vidhyadhara celebrated his success over Mahmud and other rulers by building the Kandariya Mahadeva Temple, dedicated to his family deity Shiva.
Epigraphic inscriptions on a pilaster of the mandapa in the temple mentions the name of the builder of the temple as Virimda, which is interpreted as the pseudonym of Vidhyadhara. Its construction is dated to the period from 1025 and 1050 AD.
All the extant temples including the Kandariya Mahadeva Temple were inscribed in 1986 under the UNESCO List of World Heritage Sites under Criterion III for its artistic creation and under Criterion V for the culture of the Chandelas that was popular till the country was invaded by Muslims in 1202.