Ramanarayanam-Srimadramayana Pranganam is located at a distance of 35 kilometers from Vishakhapatnam enroute Vizianagaram, Andhra Pradesh State.
Situated in a sprawling 15 acre expanse near Vizianagaram, Ramanarayanam-Srimdramayana Pranganam is accessible to everyone.
Spread over 20 acres, built in the shape of a Bow & Arrow : The Temple in Vizianagaram (A.P), took more than a decade to build. Entire story or Ramayan is sculpted in 3Dimension for the most life like experience in understanding Valimiki Ramayan !!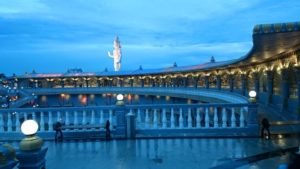 It is one of the few places in the world which has a "Veda Patashala" which is run by TTD.