#JanaSenaPorataYatra–>#JanaSena Chief #PawanKalyan Garu has Addressed & Solved The following Problems in Various District's.
1). #SRIKAKULAM
👉 Uddanam issue 
👉 Sompeta thermal power plant
👉 Cashewnut farmers issue
👉 Coconut Farmers issue
👉 Problems of Fishermen
👉 Problems of people residing near Vamshadhara river
👉 Kovada Nuclear power plant
👉 Sand Mafia
👉 Migration
2). #VIZIANAGARAM..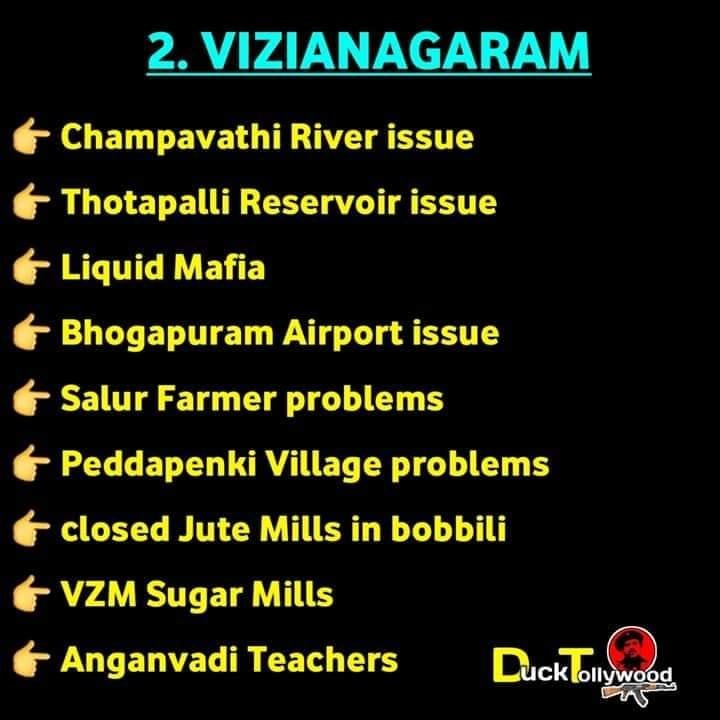 👉 Champavathi River issue
👉 Thotapalli Reservoir issue
👉 Liquid Mafia
👉 Bhogapuram Airport issue
👉 Salur Farmer problems
👉 Peddapenki Village problems
👉 closed Jute Mills in bobbili
👉 VZM Sugar Mills
👉 Anganvadi Teachers
3). #VISHAKAPATNAM
👉 Tribals issues(environment)
👉 Bauxite Mining
👉 Unemployment and education of Tribals
👉 Thummapala Sugar factory
👉 Problems of NorthIndians
👉 Railway Zone
👉 Special status benefits
👉 Gangavaram port
👉 Dumbriguda people
👉 Problems in pudimaka village
👉 Mudarsarlova Reservoir
👉 Shrungavarapukota Jindal factory
👉 Problems in Tadi Village
👉 Franklin Templeton issue
–>Met with #Krishna District people and discussed about the problems of Farmers..
👉 Undavalli Land acquisition Issue
👉 Bethapudi Farmers issue
4). #WESTGODAVARI..
👉 Aqua Farmers Issue
👉 Problems of Lecturers
👉 Uddandaraynipalem Farmers Issue
👉 About 2013 Land Acquisition act
👉 Issues of Dalits
👉 Issues of BC's
👉 Bhimavaram Dumping Yard
👉 Issues of Relli People
👉 Problems of Mee-Seva Franchisers
👉 Problems of Kolleru Farmers
👉 Problems of Private Teachers
👉 Polavaram Who have given their lands Whose villages will be drowned
👉 Problems of Dwakra People
👉 Jangareddygudem Land issues
–>#TRAINYATRA…
👉Issues of Mango Farmers in godavari dist
👉Issues od Unorganized Vendors
👉Issues of Textile Labour
👉Issues of Students in Godavari dist
👉Issues of Handcraft workers
5). #EASTGODAVARI..
👉Ravikampadu Mining issue
👉Issues of Eeleru waters
👉Issues of Sanitary Workers
👉Issues of Land Acquisition of SC People
👉Kakinada SEZ Issues
👉Uppada Fishermen Problems
👉HOPE Island Issue
👉Issues of Purushothamapuram
👉Issues of Tribals in East godavari dist
👉Suddagomma People's Problem
6). #ANANTHAPUR
👉 Issues of Dharmavaram Silk Farmers
👉 Scams in Rain guns
👉 Drought In Anantapur Region
👉 Issues of Spinning mills
👉 Migration of Ananthapur people
7). #KURNOOL..
👉 Issue about Jagannadhagattu houses
👉 Problems of Cotton Farmers
👉 Problems of Drought in Kurnool
👉 Adoni degree college – Solved
8). #KADAPA..
👉 Problems od Pulivendula Uranium issue
👉 Kadapa Steel Plant
👉 Badvel Somashila project
👉 Red Sandal issue
👉 Rayalaseema People living in Gulf countries
👉 Problems of water in Proddutur
👉 Chennur Sugar Factory
👉 Proddutur milk factory
9). #CHITTOR..
👉Issues of NGO's
👉Highway Issue
👉Chittoor Milk dairy
👉Red Sandal trees issue
10). #ONGOLE..
👉 University to ongole
👉 Veligonda project issue
👉 Fluoride Problem