Here's how to buy the latest in iPhone photography.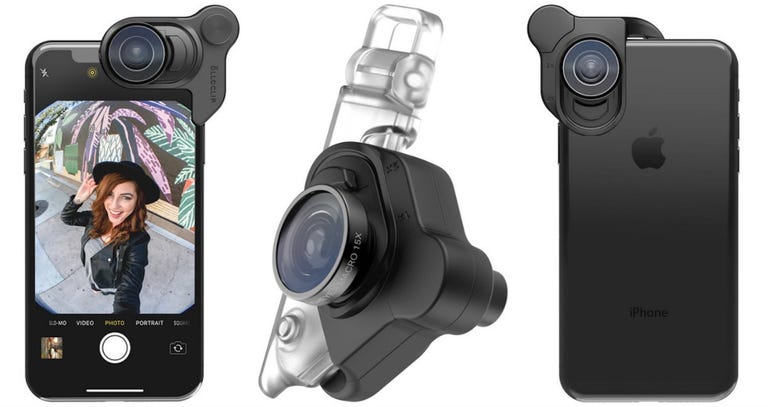 Out with the old, in with the new.
If you have the iPhone X, otherwise known the latest from Apple, you're going to need to pair it with the latest in phone accessories. And if you're hoping to do just that while stepping up your photography game, olloclip has you covered.
The highly-reviewed brand is taking the iPhone X's stunning photo capabilities to a whole new level thanks to its Connected X Lens System, which includes a new mount, tweaked cameras, and pairs well with Apple's facial recognition capabilities. All in all, it pretty much embodies "new."
Olloclip's latest makes it possible to broaden the spectrum of your iPhone X's photography capabilities in both a literal and a figurative sense. It expands the reach of the camera for both a wider and closer field-of-vision. Basically, it blows any and all of those filters and editing apps out of the water.
Here are a few of the options from olloclip's big iPhone X-themed drop. Remember: change is good. In this case, very good.
iPhone X Mobile Photography Box Set
If you've been hoping to make those amateur photography dreams come true and refine your Instagram feed, the Mobile Photography Set is basically going to be your own personal assistant. For $99.99, it comes with three different lenses, a versatile, simple system (including attachments), screen protector-compatible mount, a stand, caps, and cleaning cloth. It's legit.
iPhone X Slim Case
olloclip Active Lens Set for iPhone 8/8 Plus, 7/7 Plus
The adventure-friendly lens is ready to take on any and all destinations you may face, attaching easily to your iPhone 8 or 8 plus as well as the iPhone 7 or 7 plus. It's optimal for taking photos of your travels and excursions due to its extra-wide lens made specifically for adventure shooters and portrait photography.
olloclip Core Lens Set for iPhone 8/8 Plus, 7/7 Plus
If you're not as experienced with photography or not quite sure where to start, the Core Lens Set comes equipped with the essentials. The set, which is touted as the "most rewarded" in its field, includes fisheye, super-wide, and macro lenses, so all of your bases are covered.
And of course, if you're a beginner, you might need help setting up. Luckily, there's a YouTube tutorial for that.
All you need to do now is embark upon your next adventure. It might be as close as your backyard or it just might be somewhere totally, completely new.